Nortrans secures 5 years charter contract for its DP2 IMR Subsea vessel – Nor Naomi with International Oil Company, Noble Energy
05 Jun 2017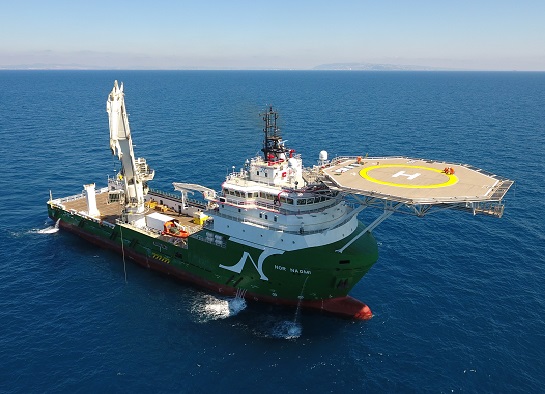 Nortrans Offshore, an offshore service operator in Singapore, today announced a five year time charter for its DP2 IMR Subsea vessel, Nor Naomi, which has been awarded by Noble Energy, the international energy provider.
"At Nortrans, we are delighted to have won this long term charter contract directly with a highly reputed international oil company, Noble Energy. This is a major achievement for us and together with our local partners K&H, we see this as a potential to grow our fleet of medium size IMR Subsea vessels in the years going forward" said Kjell Gauksheim, Managing Director of Nortrans Offshore.
Nor Naomi is a newbuild DP2 subsea service vessel built at Fujian Mawei Shipyard in China capable of ROV / IMR operations with 100T AHC Offshore Crane.
"Nor Naomi went on hire with Noble Energy in the Mediterranean sea for a 5 years time charter end of May.
"The vessel will be performing ROV operations as well as subsea environmental and field development surveys during her five year charter period for our client" he added. "This contract was won in competition with several other candidates and we have committed to Noble Energy to develop a local content of crew training program onboard Nor Naomi in close cooperation with our local partner, K&H Maritime Ltd" said Kjell Gauksheim
Nor Naomi is specially customised and equipped to perform IMR/ROV work. The vessel is 86 meter by 20 meter and has a 100-tonne active heave compensated offshore knuckle-boom crane and built-in swell compensation systems to 3,000m of water depth.
Compliant with SPS 2008 Code, Nor Naomi can accommodate 60 people, offers full cargo deck capacity of 1000 m2, and logistical below deck cargo support to extend full usage flexibility to platforms as well.